page will automatically reload every 60 seconds
One Direction Dolls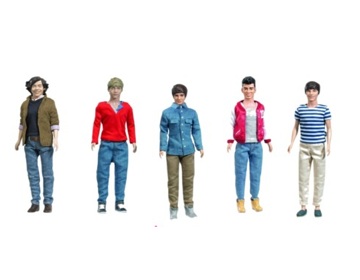 Together, Harry, Louis, Liam, Niall and Zayn make up the hit singing group known as One Direction, and now all 5 members of the band can be yours when you bring home these true-to-life 12-inch figures! (Each sold separately.) This is the Video Collection, a must-have for any 1D fan! Each figure in the collection features an iconic outfit inspired by clothes worn by Harry, Louis, Liam, Niall and Zayn on the beach in their debut video. Collect them all! Includes 1 figure, outfit, shoes and microphone. Ages 5 and up.
Follow this item to be notified (via your mobile phone/tablet, email or PC) when it becomes available to order or pre-order.
Stock Alerts
Product
Merchant
Price
Status
Not yet available. Follow this product now to receive instant alerts as soon as it becomes available for ordering or pre-ordering.
Leave a Comment